Your last chance...
System 2011 will be the LAST System Seminar
"Who else wants a proven 'SYSTEM'
that turns raw ideas into solid
businesses and solid businesses
into raging cash machines in
days and weeks instead of years?"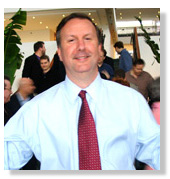 From: Ken McCarthy
Wednesday, 2:52 p.m.
Dear fellow entrepreneur,
What would it take to make you feel successful online?
How about using the Internet to grow your sales from $2,000 to over $32,000 per month in just six months? Would bringing in $15,978.24 in a single day online do it for you? How about turbo-charging your web site's sales from just 2 to over 300 sales per month in just a few weeks with a few simple changes?
Recent graduates of the System - an invitation-only Internet training - have accomplished these feats and much more.
System students have made major financial breakthroughs, not in years, but within months - sometimes just days - after graduating.
The System is so powerful that it just may be the single most potent engine of Internet wealth creation for the 'little guy' since Marc Andreessen and Netscape launched the first popular web browser back in 1994. A big claim, I know, but I can back it up.
Why reading this letter could
change your financial life forever
The biggest money is often made while the rest of the world is looking in the wrong place.
In the 'Roaring 20s,' when our parents and grandparents were young, the two hottest 'high tech' industries were automobiles and radio broadcasting - industries then in their infancy with seemingly limitless potential. Stocks in these companies were bid up to the moon, as high and sometimes even higher than 'dotcom' stocks seventy years later.
Then it all crashed.
But a funny thing happened that no one could have ever predicted...
While the rest of the country struggled in agony through the deep dark gloom of the Depression, gutsy entrepreneurs in these fledgling industries created real success stories and some became incredibly rich. And more than just a few people benefitted. Thousands of people quietly made their fortunes after the so called 'Crash.'
The same thing is happening on the Internet today.
Yes, regular, normal people are making great, independent livings from home offices selling all kinds of legitimate products and services on the Internet. And existing 'brick and mortar' companies are adding six and seven figure increases to their annual sales by setting up shop in cyberspace.
I know, because a lot of them are my students.
Great news!
The great news is that now, thanks to The System, you can get in on this money-making, fortune-building revolution while the doors to opportunity are still wide open.
If you take nothing else away from this letter, please get this: the real opportunities on the Internet are only just beginning. Don't let the news media and other brain dead idiots mislead you.
Did you know that you can 'test drive'
the System for free?
This year, a limited number of folks are being invited to participate in what we call the "Pre -System Training" absolutely free.
Lessons are delivered via e-mail and also include free eBooks and free live tele-seminars. It's easy to register for Part One of the course.
I've been practicing, studying and teaching online marketing since 1993 - yes, seventeen years - and my 'students' include some of the most successful Internet marketers around, many names you'd recognize, and some you may not.
From this perspective, I can safely say that it has never been easier to start a successful Internet business than it is today.
More and more potential customers are pouring onto the Internet daily, the tools and methods for harvesting the cash are better and easier to use than ever, most importantly - there's finally a proven System you can follow that removes all the doubt, guesswork, false starts and blind alleys that sabotage most would-be entrepreneurs and stop them from achieving their true financial potential.
You should hear some of their stories
This letter is full of real life examples of students of the System who've successfully made the leap from Internet dreams to Internet profits. But as you read it, keep in mind that these stories are just the tip of the iceberg of what's turning into a vast, unreported, underground movement.
Here are just a few of the success stories the System has helped launch (you'll read about more of them later in this letter):
Larry Trocha, a horse trainer, went from making $2,000 a month online to $32,000 in one month online in just 6 short months. He used the System.
Dave Dee, a magician, went from $500 per month online to $5,000 per month online. He used the System.
Kim Dushinski, a book publicist, took her website from only 2 sales per month to over 300 sales per month in just a few weeks, by making some calculated changes. She used the System.
Another graduate took a company that sells pressure sensitive labels from $500 a month online to over $60,000 per month online and growing. He came to me as a complete Internet 'newbie' .... and then he learned the System.
"What is the System and why
do the people who use it achieve
such dramatic results?"
In truth, it takes two and a half days to explain. Here's the short version.
Once upon a time, ten years ago to be exact, a young guy who was already pretty successful running a direct marketing business took a long, hard look at a new-ish invention called the Internet.
Some people said it would change the world. Others said it would amount to nothing. Most people just ignored it. This guy said - and he was one of the very first to 'get' it - that the Internet was destined to become the most powerful direct marketing money machine the world had ever seen...especially for the small operator starting with little or even no capital.
He put on the first seminar devoted to marketing on the web. He wrote the first article on how to use e-mail for marketing published in a legitimate marketing industry trade journal. One of his students is credited with popularizing the banner ad, the financial foundation that made the commercial Internet explosion possible.
A revolution in Internet marketing education
While the seminar BS artists spend their time scheming how they can sell the maximum amount of junk from the podium, this guy has spared no expense to get the best of the real Internet marketing masters - guys who have made real millions on the Internet, not in hotel meeting rooms - to share the fruit of their experience with serious students.
It must be working. Because without infomercials, without piranha-like telemarketers, without expensive mailings, System trainings sell out every time they're offered with nothing more than word-of-mouth, a little e-mail and a simple letter like the you're reading right now.
In fact, as I write this, one hundred and forty one seats - (scratch that - one hundred and forty two seats) - have been sold purely on word-of-mouth reputation before I even had a chance to post this letter!
(By the way, I'm the guy in the story and here are a few of the things that people have said about my dedication to teaching the real deal about Internet marketing over the last fourteen years. Click here)
Would You Like To See What A System Seminar Conference Can Do For You?

Join Two System Grads As They Share
Their Experiences and Talk About Their Successes
Since Attending a System Seminar
Get An Insider's Look at What the System Is All About…
Video #1 John Rinaldi
Meet John Rinaldi and see how he used the techniques he learned at the System Seminar to secure a $2.5 million deal for his online business selling high tech equipment to engineers.
Video #2 Darrell Crow
Meet Darrell Crow. You'll be fascinated by the story of how Darrell went from making $40 per day to making $3,000 per day after studying the System Smart Beginners Course and the Selling Physical Products course and putting what he learned to work.
Your business may be one step away from going from "okay" to "awesome". The System is the place to find the pieces of the puzzle you've been looking for.
Of course, everyone will tell you that the Internet is the best place to make money today. There's nothing new about that. But what they don't tell you is the truth about what you need to know. I guess the gurus are afraid that if they tell the truth about making money on the Internet - assuming they know it - it will scare people away.
Heck, I want to scare the weak players away. One of the reasons the first System training was such a pleasant and profitable experience for all involved is that the folks we attracted were serious about succeeding and were willing to do what it takes. We didn't have any whiners, blow hards, or idle dreamers and we certainly don't want any at our next training either.
Anyway, here's what you absolutely need to know about Internet marketing that the gurus flat out don't want you to know:
Deep dark secret #1:
The Internet is a limited market place
That's right. While it's entirely possible to make a good living and serious money on the Internet, if your goal is to make mega-millions, you're going to need to branch out into other mediums.
Several of our faculty members, in addition to being 'top drawer' Internet marketers have successful, real world experience in fields like direct mail, direct response TV, and infomercials. They're not afraid to tell the truth about Internet marketing vs. other forms of marketing and if you're interested, they'll show you how to integrate those other mediums with your Internet efforts for maximum profit.
Deep dark secret #2:
There must be an existing online market for your product or service or your venture will fail
Believe it or not, there are a lot of things that won't sell on the Internet. Most seminar gurus don't want to talk about this dirty little secret. They want you to believe that the Internet is a magic wand and all you have to do is wave it over any product and the money will start flowing. Nothing could be further from the truth.
While there are some products that won't sell on the Internet, there are others that sell incredibly well. In fact, there are some products that can only be sold profitably via the Internet. The System includes a tested methodology for quickly figuring out easily and inexpensively if there is an online market for your product idea before you invest your time, hopes, and hard earned dollars.
The System goes even further. System graduates get the tools to uncover hungry online markets that aren't even on most people's radar screens and then find or create products that meet an existing demand. We call it "shooting fish in a barrel" marketing and it's why some System users are able to create three or four profitable new businesses per year, while the average, poorly trained Internet marketer struggles, and more often than not fails, to get even one off the ground.
Deep dark secret #3:
You must know how to generate Internet traffic to succeed on the Internet
Every real Internet marketer knows, if you don't have a predictable, repeatable way to drive a ton of qualified traffic to your web site, you can't have a successful Internet business.
The gurus hate it when I bring this up. They'd rather talk about 'pie in the sky.' But the fact is no 'traffic = no business.' Becoming a super pro at creating Internet traffic is not optional if you plan to succeed. That's why the System faculty includes some of the industry's top traffic generation professionals and we devote fully 50% of the training to this all-important subject
Deep dark secret #4:
You must know how to convert Internet visitors into buyers in order to make money
Once you've got the traffic, you need to know how to turn those visitors into buyers. Again, this is not optional and the gurus get all shifty-eyed and vague when the subject of 'conversion' comes up.
To make maximum money in minimum time online, knowing the ins and outs of 'conversion' is essential. One of the reasons it's so hard to learn this art is that for all the 'hot air' that's blowing around, very few people are actually any good at it.
System grads get to learn conversion strategies directly from several of the industry's leading experts on this subject.
One System faculty member has figured out how to make a six figure income from an average of just one hundred unique visitors per day. He's the first to admit that's a pathetically small amount of traffic, but he converts it so well, it doesn't matter.
The difference The System makes
Have you noticed that I haven't spent much time telling you about what 'big wheels' our faculty are? Why?
Because, at the end of the day, the success of my faculty isn't what matters. All that matters is the success of our students. Our students' success after The System training is the measure of our success. Have you noticed that most Internet seminars get real vague about what their students do? Or they quote vague statements like: "I'm totally excited by all the great things I learned." What they heck does that mean?
Here's an example of what System students do

Howie Jacobson - Google AdWords Expert
When Howie Jacobson came to his first System Seminar, he was looking for was guidance on how to use the web to help him find clients for his consulting business. What he learned changed his life.

From a total 'newbie,' Howie, has become a top Internet marketer specializing in copywriting, online conversion strategies and Google AdWords.

Perry Marshall thinks so highly of Howie's work, he brings him in to work on challenging projects and has made him a member of his coaching faculty. Best selling Internet marketing author calls Howie "awfully smart" and client Sunny Hills says of him: "Howie is like an encyclopedia of marketing ideas - no matter what you come up with, he's got more resources for you."

This video is from Howie's very first System Seminar as a student. Now he's on the faculty.
---
Just so there's no possible confusion about what
the System is - and what it isn't...
#1: You'll get 'tried and true' techniques that work in the real world. No guessing. No theory.
The System is not based on one person's pet theory or one-in-a-million experience. It's a combination of the work of a network of extremely successful Internet marketing pros who have years of real world experience behind them.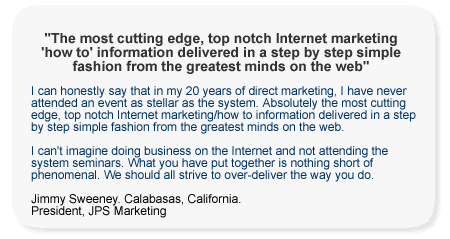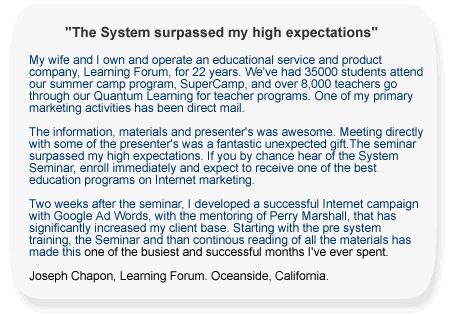 #2: You'll get the 'whole story' at the System. It's not another 'bait and switch' seminar where you have to buy books and tapes to get real "nitty-gritty" details.
The System is not a 'front end' to something else. In little over a weekend, you'll have everything you need to create new online businesses - or dramatically improve existing ones.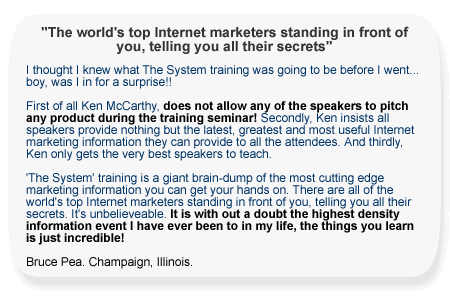 #3: You'll get fast, measurable results from the System.
If you've already got an online business, you'll be able to start profiting from what you learn at the System right away.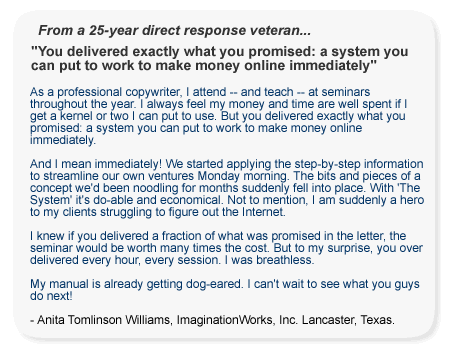 #4: You'll discover how to create a successful online business in days, instead of weeks, with zero risk and minimal investment.
The System is the fastest, most economical way to get an online business started off on the right foot.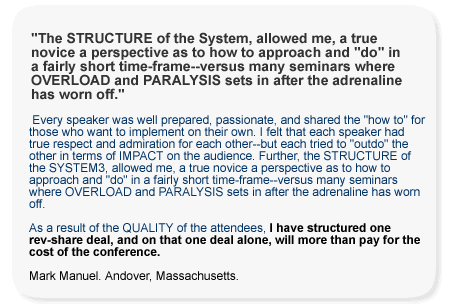 #5:You'll learn traffic generation techniques straight from real search engine and pay-per-click pros who generate millions of visitors for their clients each year
The System cuts through all the 'smoke and mirrors' surrounding how to get visitors to your web site.
After the System, getting traffic to your web site will never be a problem for you again.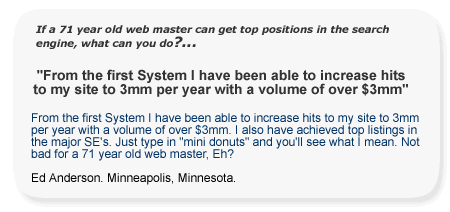 #6: You get tools and strategies that will let you create more of the world's most precious resource: free time.
What good is it to make a ton of money if you have no time to enjoy it? You'll discover how to make more money with less time and effort so you can spend more time doing what matters to you most.


Bill O'Connell - Direct Mail Marketer
#7: You'll learn how to dominate virtually any online marketplace - regardless of the size of your competitors or how many there are.
Most people marketing on the Internet today still don't understand the ABCs of how to make money online. System grads routinely eat their competition's lunch.


Larry Trocha - Business owner
Larry Trocha is a champion horse trainer and competitive rider who has chalked up dozens of wins since entering the field in 1980. He's also trained countless riders who've gone on to win their own championships.
In addition to training and competing, Larry makes a handsome living selling horse training video. Prior to attending the System Seminar, all of his sales were via traditional mail order. Now the Internet makes up well over half of his sales.
This video was recorded at Larry's first System Seminar in 2002.
Here's what Larry wrote after the most recent System Seminar he attended: "This System was so good - I just don't see how you could possibly make it any better."
#8: You'll learn how to sell high-ticket items and use the Internet to engineer 'huge paydays.'
The System shows you how to extract more profit from every visitor and every transaction. How would you like to double or - better your profits from the same advertising budget? It's no mystery to System grads.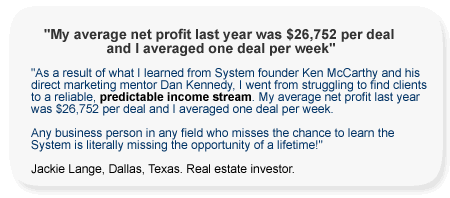 #9: You'll learn how to put your business on 'auto-pilot' and make money even while you sleep.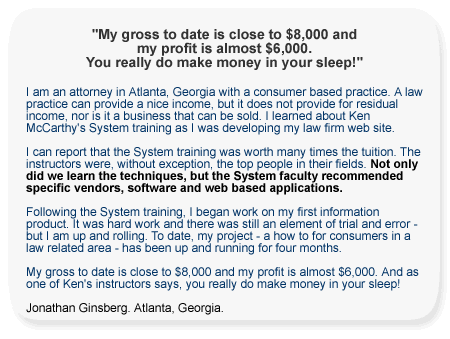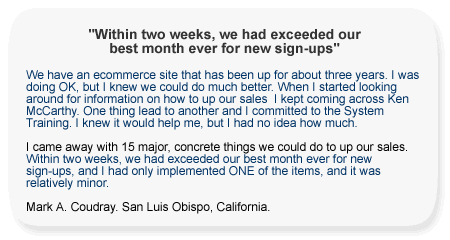 #10: You'll learn strategies to grow your 'brick and mortar' business and increase your profits safely without taking big risks or tying up a lot of capital.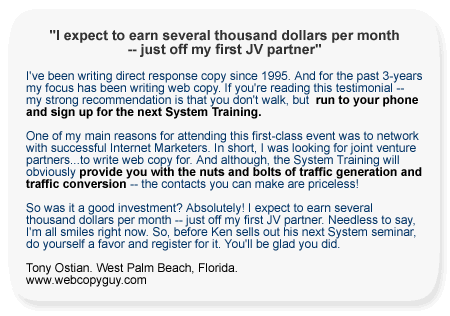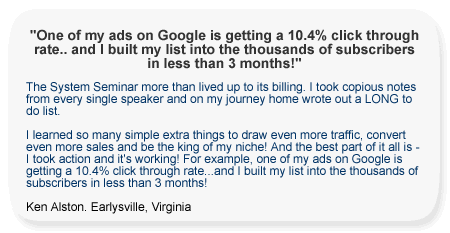 #11: You'll get 'no-cost' and 'low-cost' ways to bootstrap your Internet business without taking wild risks with your hard earned money.
Using The System doesn't require a lot of money to get started. In fact, it thrives on 'lean and mean' budgets where every nickel counts.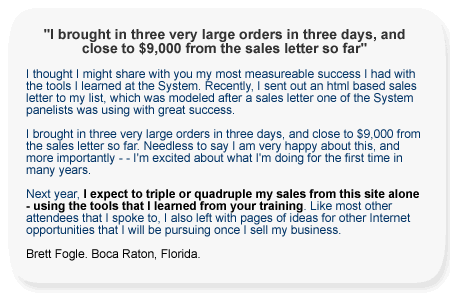 #12:You'll learn how the truly successful Internet marketers are running their businesses today.
The System is not another collection of warmed over eBook fantasies. It's the 'big leagues'.


Wayne Yeager - eCommerce entrepreneur
Wayne Yeager is a serial Internet entrepreneur who sold his first Internet company, Unclaimed Domains, to Internet.com at the height of the dotcom boom.

Wayne's next Internet venture, Trafficology, started off as an experimental eZine and quickly became a major clearinghouse for information about techniques for generating Internet traffic to web sites.

Wayne sold Trafficology and started a third company in 2003 called Sellathon.com. Sellathon offers specialized software tools to eBay merchants to help them measure traffic to their eBay listings and stores.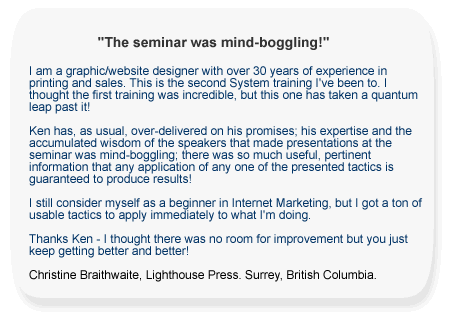 My pledge to you
I know that if you've been a student of business for any length of time you've probably been burned by people who make big promises and then don't deliver. That's why I've taken the time to be as accurate and as detailed in this letter as I can be. I want you to know exactly who we are and what you can expect from us.
I also offer these five guarantees.
1. No fat, no filler
From Day One we get right down to business. John Alanis of Group M Marketing, who has been to a ton of seminars, told me he has never seen an audience so focused at a seminar as people were at the first System training which he attended. There's a reason for that. We make sure every second counts.
2. No hype
We won't be showing you things that 'might' work or 'should' work. Everything taught in the System has been tested and proven effective on at least a dozen, and sometimes many hundreds, of campaigns and clients. These are the actual techniques that entrepreneurs who make big money on the Internet use to build and expand their business. And as the graduates of the first System training will tell you, we delivered on our promise.
3. No pitching
All of our speakers have written books and created courses about their individual disciplines and specialties. Their books and courses will be available to System attendees at eye-popping discounts that you won't see anywhere else. But the System trainings are NOT pitch-a-ramas. You don't have to buy 'something else' to get the benefits of the "System." The System is NOT a lead-in to an even more expensive deal that you have to have in order to succeed. The training stands on its own, and as graduates have shown, a System training contains everything you need to set the world on fire.
Please note: Some speakers will be given the opportunity to tell you about their products at the end of their presentation. They understand that they will have no more than 10 minutes to spend on this. Faculty members will have ample opportunity to tell you about their products at the System Tradeshow.
4. Real access to our faculty
How many seminars have you been to where the 'genius' flies in, does his pitch for his tape set and then flies out before you barely even have a chance to ask a question, let alone talk to him personally?
I don't like it and you probably don't either. At a System training, the faculty and most of the guest speakers are present for the entire event. They're in the audience with you. They take breaks and eat meals with you. They're available for private questions. In fact, they welcome them (within reason, of course. They need to sleep and have some 'down time' too. )
5. Marketing friends, not marketing geniuses
Everybody's always talking about 'marketing geniuses.' I guess that's an exciting word to throw around.
The System faculty are sharp guys, among the sharpest I've found in over twenty years of doing business. Some of them may actually even be geniuses. Heck, I don't know, but I do know this: they're all real, down-to-earth, approachable people who know what they're talking about, have been where you are right now, and are happy - downright pleased in fact - to share what they know with people of like mind who are sincerely interested in learning.
Instead of thinking of us as marketing geniuses, which some of the instructors may be, think of us as your friendly neighborhood 'profit plumbers.' Is your Internet cash pipe stopped up? No problem, we'll take a look and get the money flowing. Then we'll go out and have a beer together. That's what the atmosphere of a System training is like
If you're looking for a 'genius' in a $2,000 suit and an attitude to lecture you about all the compelling, illuminating, extraordinary, and provocative ways he's smarter than you are, we're not the guys you want. We're about you making money.

Introducing The System 2011 Faculty

(In Alphabetical Order)
Out-Googling Google
David Antley
Web pioneer who worked at Broadcast.com with Mark Cuban and GoTo.com (the first pap-per-click search engine). He will introduce a radical new approach for managing AdWords campaigns that out-Googles Google.
Life at the top of the food chain
Greg Davis
Co-founder of Elite Clicks Media (ECM), one of the fastest growing (and some say the smartest) affiliate networks.
Advisor to the Big Dogs
Michael Fishman
Veteran direct marketing strategist who has tracked the results of billions of mailing pieces (REAL mail, not e-mail). Helped companies like Rodale and Bottom Line Health explode their subscriptions and sales.
Next generation of video marketing
Alex Goad
Six years ago there was no such thing as video marketing on the Internet. Now we're into the second generation.
Web designs that pay
Ben Hunt
One of the world's most respected web site designers. Author of "Save the Pixel" and "Convert". One of the only designers at his level that "gets" the power of split testing.
Mastering all media
Brian Kurtz
Key executive at Bottom Line, a $100 million a year mail order publisher that successfully made the swtich from direct mail to infomercials and Internet marketing.
The secrets of niche dominance
Glenn Livingston
The MAN when it comes to Internet market research, niche finding and market dominance reveals his latest discoveries.
Next generation SEO
Mike Marshall
The SEO pro that IBM, AOL, 1-800-FLOWERS, and even the US Patent Office calls on when they need to know the real deal on search engine optimization.
What every info marketer must know
Talor Zamir
He mastered the world of platform selling working for Tony Robbins and realized there had to be a better way. In the process, he uncovered the secret for turning webinars into massive profit centers.
Mr. X
Plus we are working on some incredible Mr. X guests.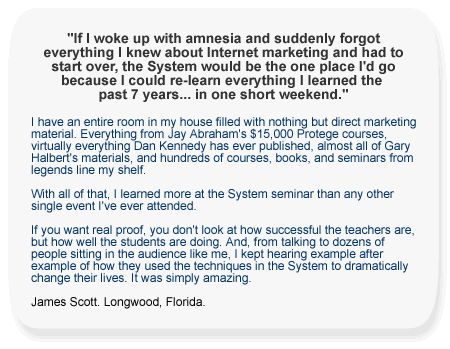 So what's the catch?

Right about now, you might be asking yourself: If this is so great, why are you opening the doors to the vault and letting everybody in? There's got to be a catch somewhere.

First of all, we're not letting everybody in. The only people who are being invited to attend the next System training are students and clients of our faculty, grads of previous trainings and their friends and clients. So there are thousands and thousands of people who are never even going to see this letter, let alone get a chance to get inside the seminar room.

Secondly, this is a business like any other. We're charging a fee to attend, a fee we feel is well in line with the value you'll receive, and we expect to make a nice pile of money for our efforts. So we're not giving anything away. But we also feel that if we charge a significant amount of money to attend a training, we better deliver - and we do. Just ask our grads.

Will there be another chance to
take the System training?

The date for the upcoming training may or may not be convenient for you. Of course, there's no way for us to know, but we did pick a date that we believed would be easy for the vast majority of people to attend.

Right now, the next System may seem pretty far away, but I assure, you it's not.

First, remember that the first System training sold out in just 22 days even though it was virtually unknown. Now word has gotten out and there are a lot of people who are kicking themselves for missing out on the chance to have been part of that once-in-a lifetime pioneer class. They're not going to make that mistake a second time.

Second, because we want to sell this thing out fast and focus on further perfecting the content, we're offering some inducements to people who can act decisively.

Third, just as we did with the first System training, we're limiting the size of the event to a scale that allows us to give individual attendees maximum attention. Once we hit our number, that's it. The doors will be closed.

Whatever you decide to do, I hope you've found this letter useful and informative. Yes, there really is a pot of gold at the end of the Internet rainbow and there are tested, time-proven ways to get it.

One way to get there is the school of hard knocks. Another way is to apprentice yourself to an Internet marketing master and work for minimal or non-existent wages for a year or so for the privilege of learning his secrets.

If those two ways seem difficult and uncertain, there is a much easier, faster way. Now you know what it is - the System - and you also know that, for now at least, the door is wide open for you.

If this is the right place for you to be, you'll find a way.

To those who will be joining us, welcome. You can count on us to do everything to make sure you enjoy the same success the grads of our previous trainings have reported and hopefully, many of you will become members in good standing of the System Club.

The last time we offered a System training, the event sold out in just 22 days. If you want to join us, don't delay and hate yourself for it later.

Best wishes,



Ken McCarthy
Chief Instructor
The System for Internet Marketing

P.S. Roughly half the course is devoted to finding and grabbing massive amounts of targeted traffic... the other half focuses on how to turn your traffic into paying customers who will make you rich.

P.P.S. Is there a guarantee? There sure is.

Here it is: Attend the entire Friday night and Saturday morning sessions. If you're not completely blown away, quietly tell one of the registration staff, turn in your manual and name tag and you will receive an instant, full and cheerful refund, no questions asked and no hard feelings.

Previous System trainings have sold out weeks in advance. Give yourself the time now to evaluate this oppportunity while there are still seats available.

P.P.P.S. Many people ask if the System is appropriate for beginners.

Originally, the System Seminar was designed for high level Internet marketers only, but I soon discovered that serious business people could benefit from attending - and benefit the experts by their unique experiences - so the doors are opened to everyone.

That being said, if you are a beginner we will provide you with study materials before you come to the System to make sure that you've got all the fundamentals of the business down so that when you come to the seminar, you're ready to take full advantage of all the knowledge the faculty shares. Details are provided upon registration.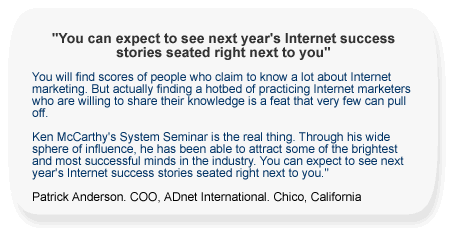 The System
- Internet marketing education -
14 North Road
Tivoli, NY 12583
Phone: 845-757-5037 Fax: 845-757-5031
Questions? customerservice@thesystemseminar.com