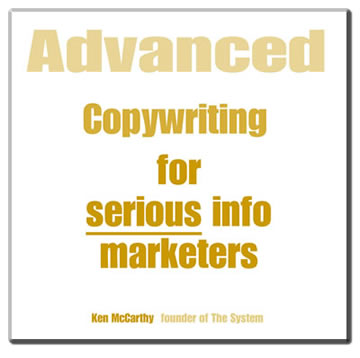 Advanced Copywriting & Info Marketing
A very rare two-day training by the creator and founder of the System Seminar, Ken McCarthy. This is not another "me too" copywriting course made up of bits and pieces of commonly circulated advice. It's about what it really takes to build a solid, seven figure a year income as an info marketer by someone who has done it. Blunt, truthful, and original. There's nothing else like it.
Free shipping
Click here for 3 payments of $998 each
Too much?
The original price for the course was $995, but unlike virtually every other course on every other subject this one gets more expensive with each passing year.
It's now, $2,995 and when we get around to it, we're taking it to $3,995.
Why?
Because it's proven its value.
This is the course professional copywriters turn to when they want to take their work to another level and it's the ideal course for beginners who want to start off with the best possible foundation.
If you're not ready for this level of investment, there's another way to access the author's techniques and strategies.
It's not the course, but it's the next best thing.