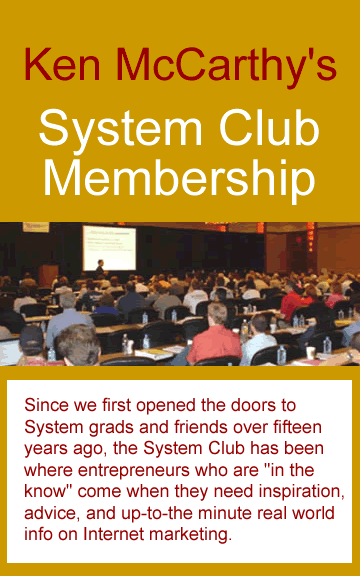 System Club Membership – Guest Pass
Read more about the System Club
Yes Ken!
I'm a serious student of marketing and I'm ready to join the Internet marketing world's most serious study group: the System Club.
Please note: You will be charged a one-time fee of $49 ($1.63 per day for 30 days) for your System Club 30-Day Guest Pass.
After 30 days, if you choose to continue to be a member of the Club, your dues will be $95 per month charged automatically to your credit card. You can cancel at anytime – quickly, easily, no hassles and no hard feelings – by calling or writing the System Club office.
Access these gifts just for trying the System Club…
In addition to my no-obligation System Club member 30-Day Guest Pass, I will have access to these free new member gifts.

New Member Gift #1:The Ultimate Copywriting Master Mind
The complete recordings of the only interview direct response copywriting legend Gary Bencivenga ever released to any group. (Available to System Club members only.)

New Member Gift #2: The Ultimate Marketing Master Mind The complete video of a never-to-be-repeated live all-day Master Mind session with three of the world's top marketing minds together for the first time: Ken McCarthy, Drayton Bird, and Perry Marshall.

New Member Gift #3: The Ultimate Internet Marketing Master Mind
The only complete recording of one of Ken's all-day Internet Marketing Intensives. He no longer offers this program so if you've ever wanted a comprehensive, no-nonsense survey of everything that matters in direct marketing, Internet marketing and copywriting direct from Ken, this is the only way to get it.

New Member Super Gift: As a new member of the System Club, I'm invited to call Ken for a private 15 minute consultation for an evaluation of my current business or business ideas I'm working on.
Ken:
This System Club giveaway is beyond the pale! You shouldn't be sending me more stuff…I should be sending you more money! But I want to have a shot at owning anything you've got, whether I have to pay or not, so count me in.
Ken, in this past year, I feel that you have hit warp speed in accelerating away from everyone else in the IM-training marketplace.
It reminds me of what the poet T. S. Eliot observed when evaluating the great literary figures of all time. He said, "Shakespeare and Dante divide the world between them. There is no third."
In the universe of Internet Marketing training, you own it. There is no second.
One reason I say this is because the best investment I have ever made in IM materials is your System Club CD program. I'm into just my third CD and it's changing virtually everything I'm doing for the better, and I was no slouch beforehand! But when you have as a mind-master support team the most successful practitioners in the IM world, well, how can anyone NOT improve! I find myself dropping even high-priority projects to just listen and take notes of everything you've sent."
Gary Bencivenga – http://www.MarketingBullets.com